You know that feeling when you get to the end of the week? That feeling of complete flatness and exhaustion. All you want is a bit of peace. Not much to ask. But where do you go for it? The city's too much and the country's too far. One word for you: Daylesford.
Not being from Australia, I can probably be excused for not knowing about Daylesford. It's a little region north-west of Melbourne in the valleys of Victoria's Macedon Mountain Ranges.
These mountains are the southern tip of the Great Dividing Range, which runs pretty much the full length of Australia's eastern coast.
But it's not just the geographical, geological or even orological features that make us want to go back to Daylesford. Though the view as your 80-minute drive from Melbourne airport draws to an end is pretty spectacular.
Here are our top 7 reasons to visit Daylesford immediately: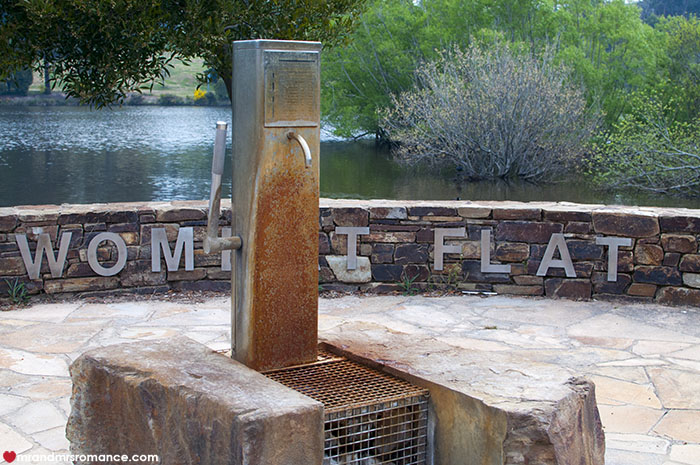 The water
Strange as it might seem, the water here tastes unbelievable. The famous (though sadly underwhelming) Mount Franklin is in this area, and the water that comes naturally out of the ground here is delicious.
Oddly, we found it hard to buy a bottle of water from any shop for less than $3.80 in Daylesford town. Perhaps it's because the tap water's so good, it's just kind of insulting to pay for it!
Spas
Along with how the water tastes, the healing properties of the underground springs here are amazing. There are around 100 naturally occurring mineral-rich springs in Australia. The Daylesford Region has 82 of them.
This means there are dozens of spas you can visit to purify, detox and indulge. The oldest and – in our opinion the most impressive – is Hepburn Bathhouse and Spa in Hepburn Springs.
There are a number of different types of baths you can experience here all with different water and healing properties. I was really impressed how the original 1895 spa had been incorporated into the new, modern development.
Food
There's so much to eat in the Daylesford area I wished I were more like a cow and had 4 stomachs! There's everything here from highly-rated restaurants to the rustic sublime.
For an incredible, yet still welcoming and relaxed gastronomic experience, the hatted Argus Dining Room is a must. The meal we had went easily onto our top 10 best meals – a list that's incredibly hard to write!
We'd also be back in a flash to have dinner in our hotel. The food at Shizuka Ryokan is excellent. It's a great example of a high-quality authentic Japanese set-menu meal.
We've also heard extremely good things about the Lake House Restaurant and Spa. This one's been awarded two hats!
For cafés, it's hard to go past the RedBeard Historic Bakery in Trentham. This place has been turning out top-quality bread since 1892… and in the same enormous oven.
My Reuben sandwich from here was so good, I wish I'd saved a bit to eat now!
Most places around these parts will give you something amazing to comfort your sweet tooth, but The Chocolate Mill – reopened since Jan '14 – has everything else licked.
Husband-and-wife team, Nicki and Adrian, use enormous blocks of Belgian chocolate to mould, fill and polish beautiful rich choccies that will make you cry with delight. As I've mentioned in previous posts, I don't have much of a sweet tooth, but this place is heaven!
Where to stay
There are literally hundreds of places to lay your head in this part of the world. But if you're looking for somewhere truly unique and honestly excellent, try Shizuka Ryokan in Hepburn Springs.
It's the attention to detail in this hotel that makes it such an authentically Japanese experience. Instead of just staying in some generic hotel, it was really refreshing to spend time here.
Complete with shoji rice paper screen walls, tatami matting and a full-on ornamental kimono hanging on the wall, our room was perfectly Japanese. You're provided with slippers at the door, which you wear throughout the hotel.
You can even wear the traditional robes around the place if you like (we did!), and as we mentioned, the food here is exceptional.
We were also treated to a couples spa treatment at Shzuka Ryokan – highly recommended!
Wineries
The undulating terrain and the cold climate make for some excellent wine here. It goes glass-in-hand with the foodie territory the region has developed.
We'd have like to have visited more cellar doors while we were there, but once again sheer capacity got in the way. I think a winery tour of the region will be high on our list of things to do on our next visit.
Try Ellender Estate in Glenlyon for their Pinot Noir and Rosé wines are terrifyingly drinkable, and the pizzas that Graham and Jenny Ellender make in their beautiful wood-fired oven are to die for.
Make sure you take the quick stroll down to the lake and the little boat house there. It's 100% romance. Just make sure you're not interrupting a wedding proposal – they happen a fair bit apparently!
Passing Clouds Winery in Musk is a lovely cellar door to visit. If you're lucky, owner Graeme Leith will be there. He's a bit of a local legend and was busy writing his biography when we met him.
It doesn't take much to get him talking and his stories will make for quite a read, I can tell you!
Shopping
For some reason, the homewares, antiques and boutiques in Daylesford and Kyneton are awesome. Jen from TheInteriorsAddict.com pointed us in the direction of a few and she wasn't wrong. Shame we didn't have extra luggage allowance on our flight!
Perfect for a short weekender
Above all, the Daylesford Region and the Macedon Ranges is just so close to Melbourne. If you live in the city, it really is close enough to drive out for a night's stay.
Otherwise, if you're on the east coast or South Australia, it's not a long flight into Tullamarine Airport, and the drive after that's a cinch.
So the next time you're feeling drained, check out what's going on here. You'll get home feeling brand new.
What do you do to get over a hectic week? Where do you go for a weekender? Have you ever stayed in a traditional Japanese ryokan before? Tell us in the comments!
Images by Mrs Romance.
Mr & Mrs Romance visited as guests of Daylesford and Macedon Ranges Regional Tourism Board.